When you need a single-point solution for site preparation, Rogers Grading Inc. is here to answer the call. As a full service firm, we go above and beyond other excavation companies in Rock Hill, SC to provide a full suite of services designed to get your land ready for development. Our capabilities include: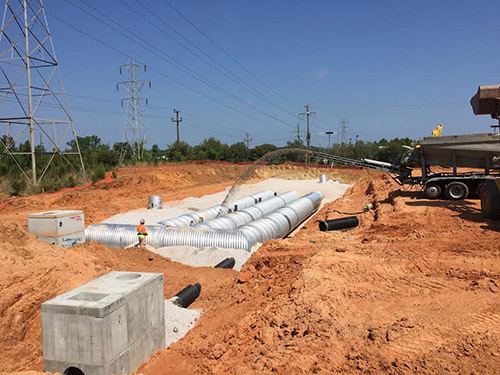 Clearing: Before land can be prepped the site must be cleared of any existing foliage or debris. We're adept at land clearing and will ensure your site is prepped to the fullest for future stages of development.
Grading: We're your foremost authority on land grading for any purpose! Our grading contractors in Rock Hill, SC work with the land and your structure to properly grade the land to prevent flooding and erosion issues in the future.
Erosion control: Our expert team identifies possible erosion concerns on land and works to develop solutions for prevention via grading and runoff diversion.
Demolition: Existing structures blocking you from developing viable land? We'll quickly and safely bring down existing structures to ready the land for development.
Storm drains: Runoff water needs a place to be evacuated to! We can coordinate the installation of storm drains to help prevent flooding and standing water situations.

Water and sewer lines: We can trench in water and sewer lines for potable water and septic systems alike.

Curb and gutter: Our team is familiar with curb and gutter formation, and we understand the governing regulations that are needed for these installations to be effective.
Concrete and asphalt paving: We provide paving services for concrete and asphalt, to save you the trouble of contracting this job out to yet another contractor!
Underground detention pond: As part of erosion control systems, we're adept at creating underground detention ponds for storm water runoff and potable water systems.
Stone placement: Need large decorative stones placed strategically on your property? We can assist via the use of our readily-available machinery.
We take pride in tailoring all of our service capabilities around the needs of each jobsite we work on. This allows us to meet the needs of our clients efficiently, pushing the development ahead on time and within budget. Some of the jobsites we're most familiar with include:
Schools
Hotels
Churches
Subdivisions
Commercial buildings
Warehouses
For more information about our capabilities or to inquire about how we can assist you with site preparation for your impending project, please contact us today by calling 803-327-5705.